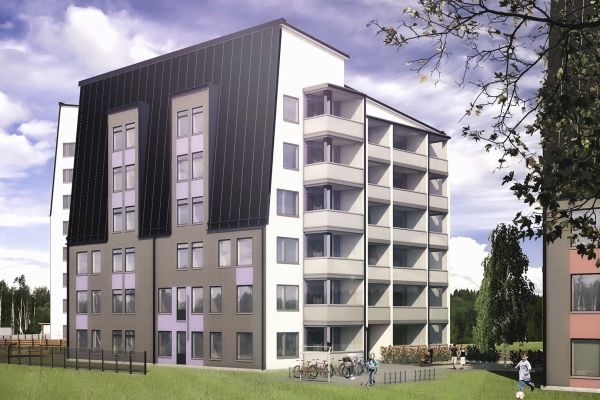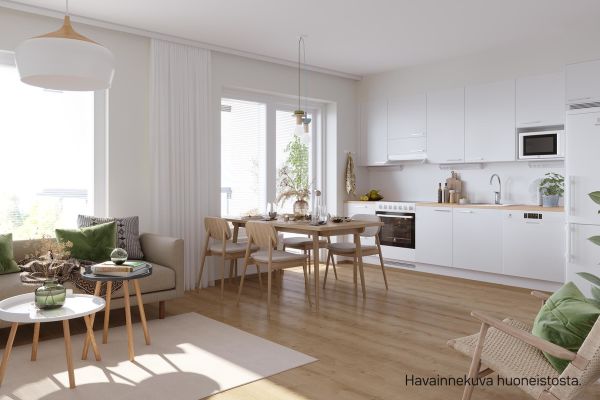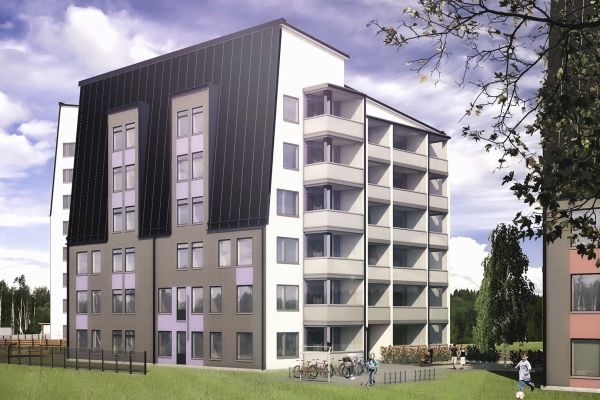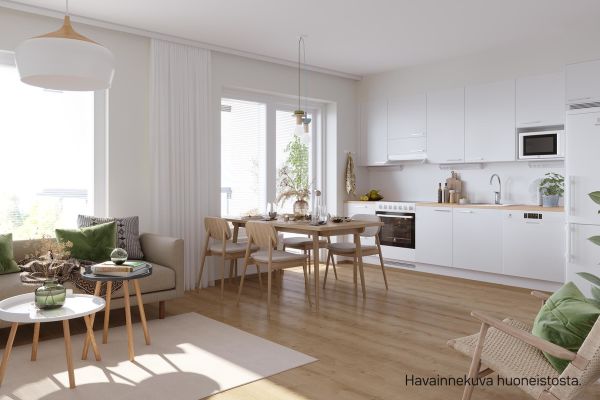 Läpikäytävänkuja 4
Loukonlahti, 33950 Pirkkala
Apartments

48 kpl
Type

apartment building
Year of construction

2022
Building type:

apartment building

Year of construction:

2022
Vuokraan sisältyy DNA:n 50 Mbit/s internet-yhteys
Details
Located in the Nuoliala-Loukonlahti area in Pirkkala, Läpikäytävänkuja 4 is a 6-storey rental apartment building with a total of 48 apartments completed in 2022.
The building has excellent shared facilities as the rent includes access to a sauna, a laundry room, a drying room and a communal space. In the communal space, tenants can plan joint activities and acquire hobby equipment. The building also houses outdoor equipment storage rooms and a bike cleaning area.
There are a total of 27 parking spaces for car owners, 21 of which are located in a garage and the rest in the courtyard area. Four of the spaces in the garage are equipped with electric vehicle charging stations, and the outdoor spaces have block heaters.
The building is completely smoke-free and smoking is only allowed in the designated smoking area. The building is a rental housing company financed with a short-term interest-subsidy loan from ARA, which means that there are income limits for the apartments.
Loukonlahti as a residential area
In the lush and peaceful scenery, you will be living close to both nature and services. In Loukonlahti, you will find excellent outdoor recreation areas and peaceful lake shores right within walking distance, as the Loukonlahti beach invites you to enjoy the shores of Lake Pyhäjärvi on summer days and, if you are particularly brave, in winter as well. Well-maintained sports fields and disc golf baskets can also be found nearby.
The new Nuoliala comprehensive school, a daycare centre, playgrounds and a library are located a stone's throw away, and it takes 10 minutes to cycle to the Partola shopping area, where you can find the largest hypermarkets and a wide range of other services.
The nearest bus stop is approximately 300 metres away. You can easily get to Pirkkala and Tampere city centres, located around 7 kilometres away, by bus. In addition to public transport connections, you can easily get around with a car or by bike on the safe cycle lanes in the area.
Loukonlahti is part of the developing Pirkkala region, and more apartments will be built in the area in the future. Services and transport connections are also being developed. Despite this, Loukonlahti will continue to preserve its peaceful nature and green areas suited for active outdoor recreation.
Apartments in Läpikäytävänkuja 4
There are 48 apartments. Their size ranges from 33 to 69 m2. The apartments include studios and one-bedroom and two-bedroom apartments that are suitable for those living alone, couples and families with children. Pets are also welcome.
The apartments offer well-designed living solutions and comfort, and the materials have been chosen with functionality in mind. The floors are easy-to-care laminate. The kitchens are equipped with a ceramic stove, a dishwasher and a fridge-freezer. The underfloor heating in the bathrooms and mechanical ventilation make living pleasant. The glazed balconies increase the comfort of living and allow for using the balcony even when the weather is not ideal (apartments A2 and A9 have French balconies).
The rent includes a 10 Mbps Internet connection and access to a shared sauna and washroom. The water tariff is €17/person/month and it is balanced twice a year on the basis of actual consumption.
Building information
Location

Läpikäytävänkuja 4, Loukonlahti, 33950 Pirkkala

Number of apartments

48

Energy class

B2013

Storage rooms

Storage rooms kellari Storage rooms for outdoor equipments

Shared facilities of the property

Shared sauna room Clubroom

laundry room

free laundry room
Maintenance company
Kotikatu Oy / Pirkanmaa
pirkantalohuolto@kotikatu.fi
010 270 8040
Sarankulmankatu 25, 33900 Tampere
Apartment types in this building